Civil Wedding

in Tenerife
Your Unforgettable Moments in Paradise Scenery
Do you dream of a beautiful wedding surrounded by fabulous nature and a warm climate?
Our wedding agency in Tenerife specializes in organizing unique Wedding Ceremonies that will provide you with unforgettable moments as well as a deep and emotional experience.
Is it possible to have a Civil Wedding in Tenerife?
A civil wedding in Tenerife is possible only at the local Registry Office and requires registration on the island 6 months in advance. Therefore, if you are not a resident of Spain and you dream of experiencing the most important day of your life in the beautiful landscape of Tenerife, at any time and arrangement, there is a simple solution. 
You sign the marriage documents at the Registry Office in Poland or in the country of residence, and thanks to this the concluded Marriage has legal force.
On the other hand, in Tenerife, we organize an extraordinary Humanistic Wedding Ceremony.
The Humanist wedding is the most dynamically developing type of wedding in the world. In many countries (e.g. Sweden, Norway, USA) it already has legal force. In Poland, the first Humanistic Wedding took place in 2007 and since then the popularity of this type of Wedding in Poland has been gradually growing.
As the name suggests, the Humanist Wedding focuses on humanistic values ​​such as: friendship, individual freedom, trust, diversity, deepest needs and feelings.
What young couples value very much in the case of this type of wedding is the fact that this ceremony is really special and unique. Among other things, because there are no restrictions as to the place where such a Wedding can take place and it focuses on the individual needs of the Bride and Groom.
What distinguishes the Humanist Wedding from the traditional ones is the richness of content, aesthetics (e.g. inclusion of favorite music, prose or poetry readings in the Ceremony, the story of the Bride and Groom and the possibility of taking the oath with your own words coming from the heart …), originality and personalization of this wonderful event .
It is an ideal solution for couples who want to give their ceremony a more individual dimension. The Humanist Wedding Ceremony is a spiritual and emotional experience for you and the invited guests.
The form of this ceremony has an extremely emotional and moving dimension.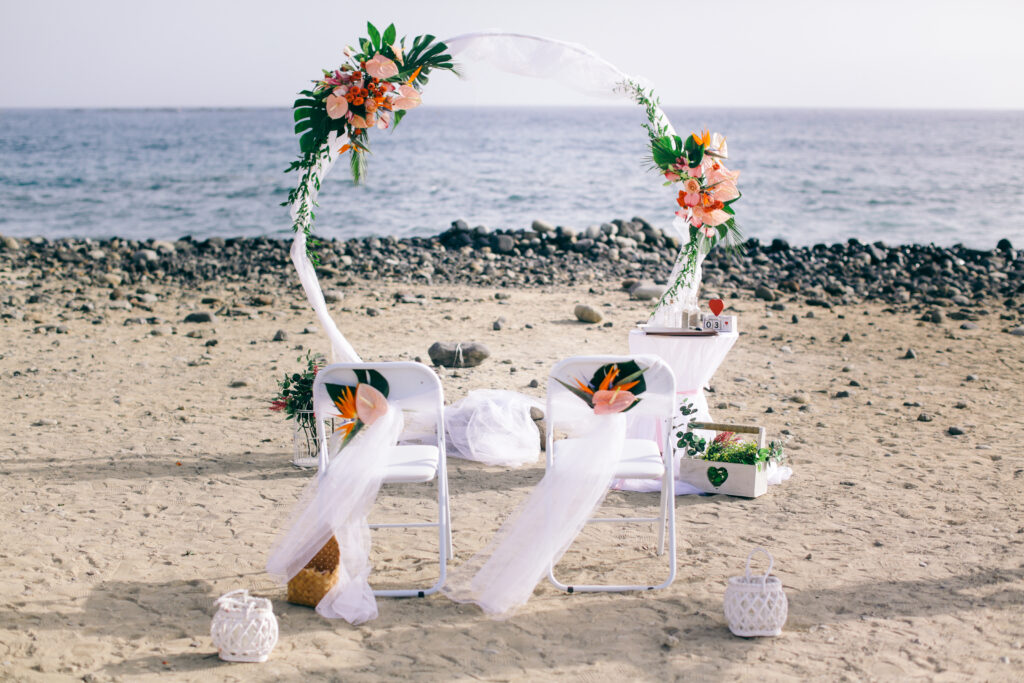 We will plan your day in four steps
Wedding in Tenerife step by step
You will contact us and tell us about the vision and dreams of your wedding in Tenerife.
We will send suggestions of the best places that meet your expectations and we will create an offer according to your needs.
After agreeing on the date and place of the wedding, we will sign a simple contract and offer additional services.
Upon arrival in Tenerife, we will meet you to discuss the details. On your wedding day, we are with you all day long so that you can fully enjoy every moment!
Humanistic Wedding Arrangements
Tenerife, known for its beautiful beaches, picturesque cliffs and lush vegetation, is the perfect backdrop for your special day. Choose from our offer the perfect place that will reflect the character of your love and create an amazing atmosphere.
For each of the packages, you can additionally order:
Tell us your wishes and we will do our best to fulfill them.
We will tailor an individual plan to your dreams!
Celebration for the Bride and Groom
Celebration for the Bride and Groom and Wedding Guests
Wedding ceremony according to your wishes
Tailored package, according to your wishes
Our wedding agency in Tenerife is a team with passion and experience. We make dreams of a dream wedding come true, creating unique moments full of emotions and magic. Our satisfied couples are the best proof of our work.
Ready for us to create an unforgettable
Wedding in Tenerife together?
Get ready for a magical Humanist Wedding in Tenerife, where love meets nature and emotions create unforgettable memories. 
Plan your dream day with our help now!