Fabulous
Engagement

in Tenerife
Unique Engagement in Tenerife
– Create Romantic Memories
Do you want to surprise your beloved with an unforgettable engagement surrounded by a romantic sunset, with the sound of the ocean?
This dream can now be fulfilled – with us!
We will help you create your Magic Moment
Together with us, you will create this special moment. 
Against the background of the setting sun, we will create a backdrop full of emotions – from a candlelit dinner, through delicate wine, to the pleasant sound of the ocean and the sounds of subtle music.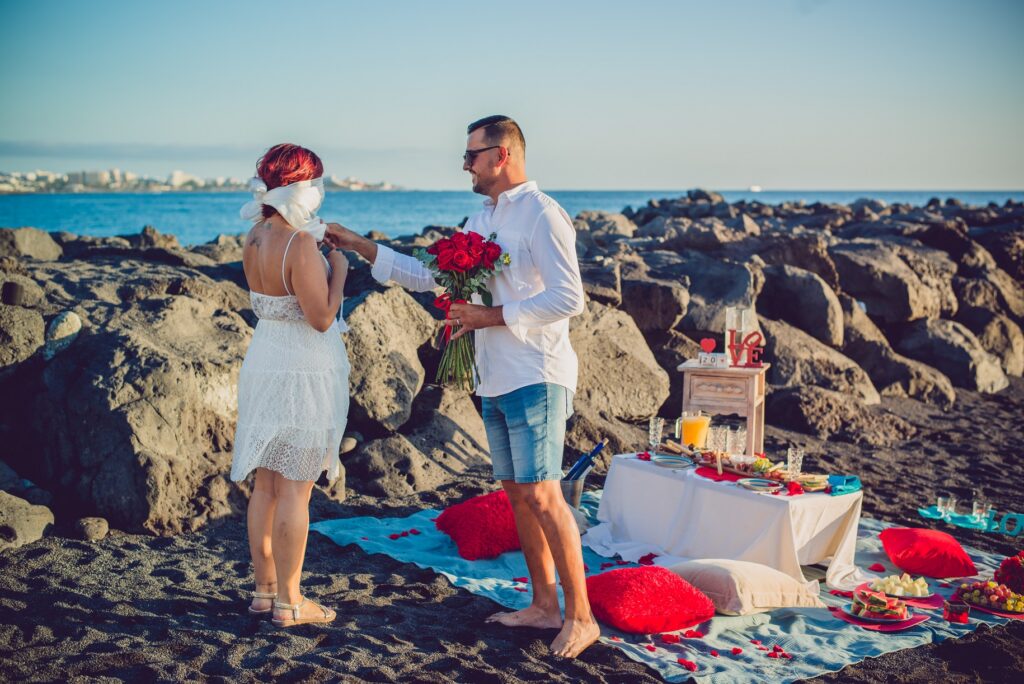 Your Dreams Will Become Reality
Thanks to our knowledge of every charming corner of this island, we will advise you which place will be perfect for your magical moment. We will organize for you an engagement on a ship, a romantic helicopter flight or a touching moment at the top of a volcano.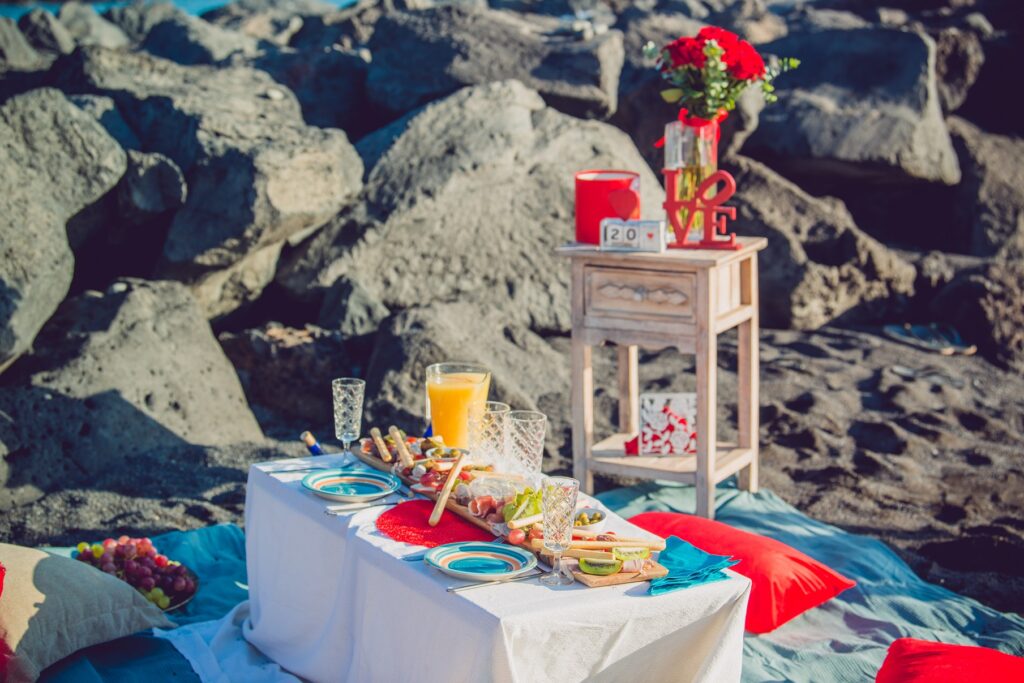 We will implement any original idea
With us, you can turn any, even the most original idea, into reality. And if you dream of sharing this moment with your loved ones, we will prepare a romantic engagement dinner with your parents or friends.
organizing an engagement on the south coast of Tenerife: on the beach, on the coast overlooking the ocean or in the mountains,

a romantically prepared place: a blanket or a table with chairs,

decor,

candles,

a bouquet of flowers for the chosen one,

balloons,

champagne,

fruit,

snacks,

coordination of all details on the day of the event.
Price: 390€
On request, for an additional fee, live music can be ordered: saxophone or Spanish guitar and dinner for two.
See offer
Collapse
Additionally, you can order:
Capture the Magic of the Engagement Day in a Unique Outdoor Photo Session
In our offer, we encourage you to take advantage of an unforgettable outdoor session that will take your love to the beach, picturesque parks, majestic cliffs, mountain landscapes, banana plantations or even in the shadow of the majestic El Teide volcano.
These are not just photos, these are emotions that will be immortalized forever. 
Your smiles, looks and gestures will become a beautiful story that you will be able to remember after years. 
Description
Collapse
Sounds That Paint Love – Live Music for the Engagement Celebration
Would you like your engagement to be not only beautiful, but also full of emotions? We offer an unusual proposition – the sounds of live music that will complement the charm of your special day.
Instruments:
Our offer includes a choice between Spanish guitar, saxophone and violin during the Engagement. Each of these instruments carries its own unique atmosphere, adding magic and emotion to your moment.
Description
Collapse
Unforgettable Moments Captured in Frames 
Would you like to keep every touching moment of this special day? Our offer of Video Clip from Engagement is the condensed essence of this special day, captured in beautiful frames. 
Thanks to professional production and artistic approach, your special day will become an unforgettable story to watch and experience at any time.
Description
Collapse
After a touching moment, it's time to celebrate together, which is surrounded by a unique taste. Our offer of a delicious, romantic dinner is not just a meal, it is a moment that connects you in a pleasant and unique atmosphere.
We organize dinner in a selected place – in a hotel, an elegant restaurant with a view of the ocean or in the Beach Club, where the sound of the waves adds notes of romance. Our offer is tailored to your preferences.
Description
Collapse
Tell us your wishes and we will do our best to fulfill them.
Gallery of Realized Dreams
Our wedding agency in Tenerife is a team with passion and experience. We make dreams of a Dream Day come true, creating unique moments full of emotions and magic. Our satisfied couples are the best proof of our work.
Ready for us to create an unforgettable
Engagement in Tenerife together?
Let your proposal become a story that you will tell for years. Contact us so that together we can create a moment that will stay with you forever.