Opinions of our

Happy Couples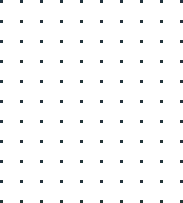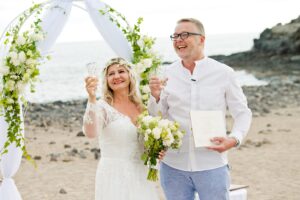 Ewa i Christoph
"My dream was to get married on the beach. Thanks to you wonderful girls Ania and Kasia Firma Exotic Wedding Tenerife my dream came true. We would like to thank you with all our hearts for organizing such a wonderful and emotional wedding ceremony on the beach, for the beautiful decoration, for spiritual support when we were nervous, we did not know what awaited us, for kind, warm words and a sincere smile. For organizing a romantic and delicious dinner and cake and many other surprises.
Ania and Kasia, not knowing you before, we trusted you 100% and you fulfilled our dream in 200%. It was like a fairytale wedding. It's been over a week, and we're still living this wonderful moment, talking about it, looking at the photos. Asia, thank you for a beautiful photo session. Klaudia Thank you for conducting the ceremony, your warm voice and smile allowed us to experience everything very emotionally.
It was a fantastic and emotional experience, you guys are fantastic and we wholeheartedly recommend Exotic Wedding 👍👍❤️❤️🥰😘😘"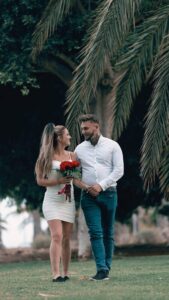 Dagmara and Patrick
Hello 🌹
With some conviction I recommend working with these wonderful women. 🤗
Among many other proposals, after the phone call, you could decide that this would definitely be what we expected. 🌺
their sympathy and full commitment to their work makes all the stress that appears before such an important life decision simply disappear, a person calms down and feels the support that flows straight from their sincere heart. ♥️🫶🏻 their work is done with pure vocation, therefore it is not artificial and fake courtesy, but true and loyal respect for the client and his requirements and needs.
These ladies do not impose their points of view, do not change the client's plans and imagination, but fully try to adjust everything so that it best suits the client's vision and needs.
They patiently listen to every suggestion and help to make the best choice , and their mere presence calms down and provides certain comfort during the ceremony . I recommend with all my heart ♥️♥️♥️♥️♥️♥️♥️♥️"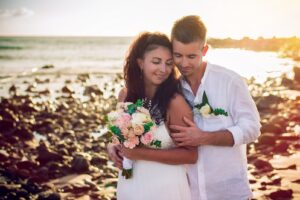 Angelica and Peter
"It was the wedding of our dreams. 😍 We are delighted with the effects of the session, organization and arrangement. I wholeheartedly recommend this type of wedding and cooperation with these wonderful women. ❤️ Everything buttoned up. Constant contact at any time of the day. As a young couple, we didn't have to stress or worry about anything. Care on the wedding day until the very end. Thank you for your support, persuading us to make our own oath. You helped us create beautiful, touching and unique memories that will stay with us for the rest of our lives. Who knows maybe see you soon! Nos vemos amigos ❤️🏝🗻🏖☀️🌊🤵‍♂️👰‍♀️"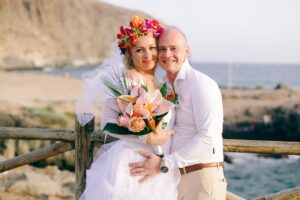 Agnes and Christopher
"Thank you for such a great organization of our wonderful day 😍 You are fantastic at what you do and thanks to you, this day was even more wonderful 😍 We recommend such an experience to everyone ❤️❤️"
Marta and Radek
"Impossible things they do right away, for miracles you have to give them a moment.
Worth recommending in every aspect.
Very professional organization and great customer service.
Kasia and Ania pamper the ceremony down to the smallest detail. They make everyone feel special. They do not impose their will, but only outline the scheme of the ceremony and allow the couple to decide on the details, so that the entire event is fully personalized and focused on the needs of clients. They will take care of the hairdresser and make-up, and if necessary, they will advise on many other issues such as outfit or even wedding rings.
The ceremony they organized for us was a great event that made us feel special and we could count on their support from the beginning to the end. Taking the oath by the beach among the palm trees and the sound of the waves, a wonderful photo session and finally dinner at sunset topped with a delicious cake ... a Hollywood wedding. Dreams turned into reality.
We highly recommend!
It is also hard not to mention the great professionals with whom Kasia and Ania work: a florist who conjures up bouquets as we wish; a make-up artist who can perfectly choose a delicate wedding make-up and hairstyle; Asia - photographer and beautiful photos in the amount that everyone would be satisfied with, and Bartek who created a beautiful wedding souvenir for us - a wedding video that you can watch endlessly!
Thank you girls! It was wonderful!"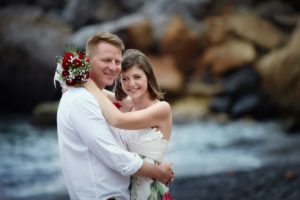 Yvonne and Pawel
"Is it possible to organize a wedding in less than 2 months? With the help of Ania and Kasia you can. The girls organized a beautiful, intimate church wedding for us in Tenerife. They guided me through every stage of completing the documents, making arrangements in the church, organizing the dinner, and arranging a photographer. They were very helpful, they even took care of our 10-month-old daughter during the photo session
Financial issues were clear from the beginning, no hidden or unexpected costs, which is also a huge plus. Kasia and Ania, thank you very much for making this day special for us and giving us the feeling that we don't have to worry about anything. To anyone who is thinking about getting married in Tenerife, we recommend this wonderful climatic island and using the help of Ania and Kasia. Best regards! "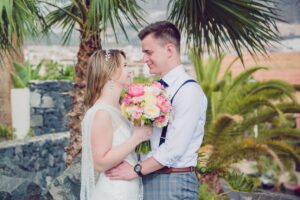 Aneta and Piotr
Thank you Ania and Kasia for planning a great celebration and making our dream come true 🥰. The girls took care of even the smallest details and made it easy for us to enjoy this wonderful day. We highly recommend Exotic Wedding Tenerife to everyone who is thinking about getting married abroad ❤️❤️❤️"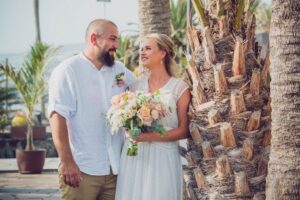 Carolina and Simon
"Thank you for a wonderful ceremony and a wonderful souvenir in the form of photos and video!😍❤ it turned out beautifully, our dreams and expectations were fulfilled ❤"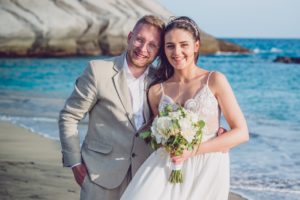 Patricia and Peter
"If you plan to experience something special, something for yourself, something that you will remember all your life, we sincerely recommend Exotic Wedding.
Thanks to Kasia and Ania, you will be able to experience something unforgettable in the way you dream of. You will surely remember this day for the rest of your life. 😍😍
Thank you very much for everything and we recommend it even more sincerely! 😍🔥"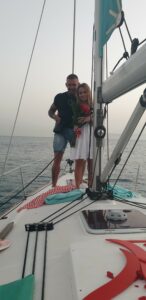 Matthew
"If you are wondering how to plan a unique engagement, then definitely choose Exotic Wedding Tenerife.
Kasia and Ania have a very professional approach. Communication was very smooth, everything could be done over the phone. Engagement organized at the highest level. A specific plan of action, full discretion, quality of services exceeding expectations and most importantly - guaranteed WOW effect!
Taking care of the smallest detail and professional advice resulted in a dream engagement.
I wholeheartedly recommend and thank you again!"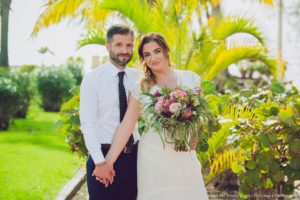 Kasia and Lukas
"We would like to thank Kasia and Ania from Exotic Wedding with all our hearts. Thanks to them, our wedding day was unique and unforgettable. The girls not only did not give up on the pandemic but also on other adventures accompanying the preparations for our ceremony. It's wonderful to meet people who approach what they do with passion, full commitment and professionalism. 29.12.202O in Tenerife will always remain in our hearts. Thank you very much and we recommend it!!!"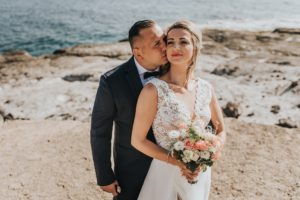 Monika and Gregory
"I am very pleased with the cooperation with Kasia and Ania. The wedding took place as I dreamed of ... everything was perfect, I am delighted with every moment of my wedding, I felt fantastic, and the girls took care of us in every way. Preparations with the girls are a pleasure because they tried to make the young couple feel special on this day!!! I recommend it to every couple who is thinking about getting married in an exotic place and Tenerife is unique. Thank you for everything!!!"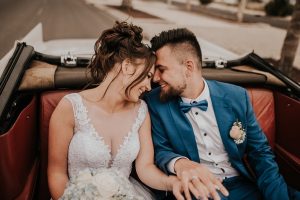 Michael and Camilla
"We wholeheartedly recommend Ania and Kasia.
Beautiful ceremony, everything buttoned up, we can only speak in superlatives. 😉
We recommend it to everyone who wants to experience beautiful and unique moments at the same time!
We recommend it to everyone who has the courage to experience this special day in an unforgettable way!
We recommend it to everyone!
One of our most beautiful days!
Thank you Ania and Kasia VERY MUCH! 😉 "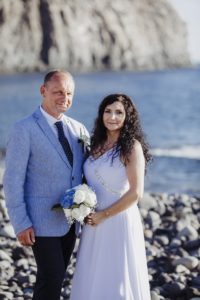 Aldona and Krystian
"If you are planning your special day, we wholeheartedly recommend Exotic Wedding Tenerife.
It is impossible to forget everything that we experienced during our wedding. Ania and Kasia organized a beautiful ceremony and reception for us. Everything full of magic, everything as we dreamed of ... They completely met our expectations. This day will be forever etched in our memory, and we think also in the memory of our guests, who were just as delighted as we were. Both girls are full of professionalism and commitment. They took care of the smallest details, they took care of us to make us feel special on that day. LOVED!
And one could write and write ... in superlatives. But sometimes one sentence means more than a million words. So, if you want to fulfill your dreams of the most wonderful day, full of magic and romance, you can entrust this dream to them without any fear, and they will make it come true for you."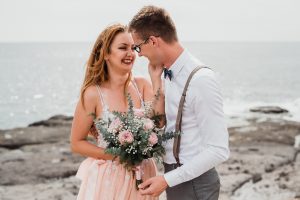 Aneta and Tomek
"Because I work in the wedding industry, it was not easy for us to trust organizers we did not know. We chose Tenerife for our wedding, so we had to take a chance. And it turned out to be a hit. The girls, first of all, listened very actively to what we care about and adapted the ceremony to our needs. They organized a truly wonderful ceremony, with a touching speech and a unique atmosphere. The restaurant they chose is already on the list of places that we will definitely visit again! Not because of emotions and memories, but because of the delicacies we were served there! The best seafood we ate, and it was by no means our first time 😉 Everything was buttoned up in a very calm and cheerful atmosphere. We recommend it to every Romantic who is characterized by a bit of madness;) And to everyone else too!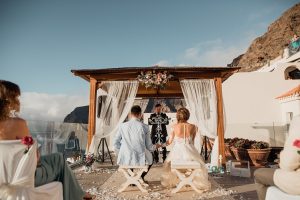 Kinga
"I wholeheartedly recommend working with Ania and Kasia!
Full commitment, excellent cooperation, every detail has been perfectly refined. Although the contact and all arrangements took place remotely, the event organized by the girls met all our expectations and even more! We can safely say that with Ania and Kasia you will organize your dream wedding in a fabulous scenery, individually tailored to your needs. The wonderful place we chose together was breathtaking! Beautifully and tastefully decorated, Spanish music played live emphasized the character and atmosphere of the place. The kitchen served delicious, elegantly presented dishes. Everything was planned very carefully, supervised all the time by our coordinators, who followed the course of this unforgettable event with full commitment.
If you dream of a wedding in the scenery like from the most beautiful romantic movie, one of a kind ... I think you've come to the right place 🙂 Or maybe a wedding in the middle of winter, in the sun and 25 degrees?;) Why not? Tenerife is the perfect, year-round place to organize this special day! Another advantage is its diversity, amazing landscape, temperature ... The island hides many secrets that are worth discovering! We will definitely be here again 🙂 All the more we highly and sincerely recommend this place and cooperation with girls who know the island very well and will help with everything.
You can safely trust them! :)"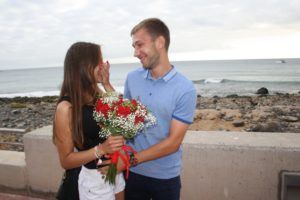 Paul
"I thank you again very much for your help😊 top-level organization 😊 surprise was a success! 😊 I did not expect such effects 😊."