Organizing a wedding in Spain can be an exciting challenge, but it does require some planning and coordination. Here are some steps that can help you organize your wedding in Spain:
Choose a location:

 Spain offers many beautiful wedding venues, from beaches and castles to vineyards and hotels. Choose a place that suits your preferences and budget.

Take care of the formalities:

 To get married in Spain, you need a valid passport or ID card, as well as a birth and marital status certificate. If you don't speak Spanish fluently, it's worth hiring an interpreter. 

Hire a wedding planner or coordinator:

 When organizing a wedding in another country, the help of a planner or coordinator can be very valuable. Wedding Planner will help you find the best locations and service providers and will make sure that everything is organized on time.

Choose a menu:

 Spain is famous for its delicious cuisine, and the menu at your wedding should be no exception. Consult with the caterer to choose dishes that will suit the tastes of your guests and the region where the wedding is taking place.

Hire photo and video services:

 You definitely want to keep beautiful memories of your wedding day in Spain, so it's worth hiring a professional photographer and videographer.

Take care of the music:

 Music is an important part of any wedding event. Choose a style that suits you and your guests and hire the right DJ or music band.

Arrangement of transport:

 Make sure that your guests can easily get to the wedding venue. Hire transport if necessary.

Organize activities:

 To keep your guests happy, it is worth organizing a few extra activities, such as wine tastings, tours of the area or fun and games for children.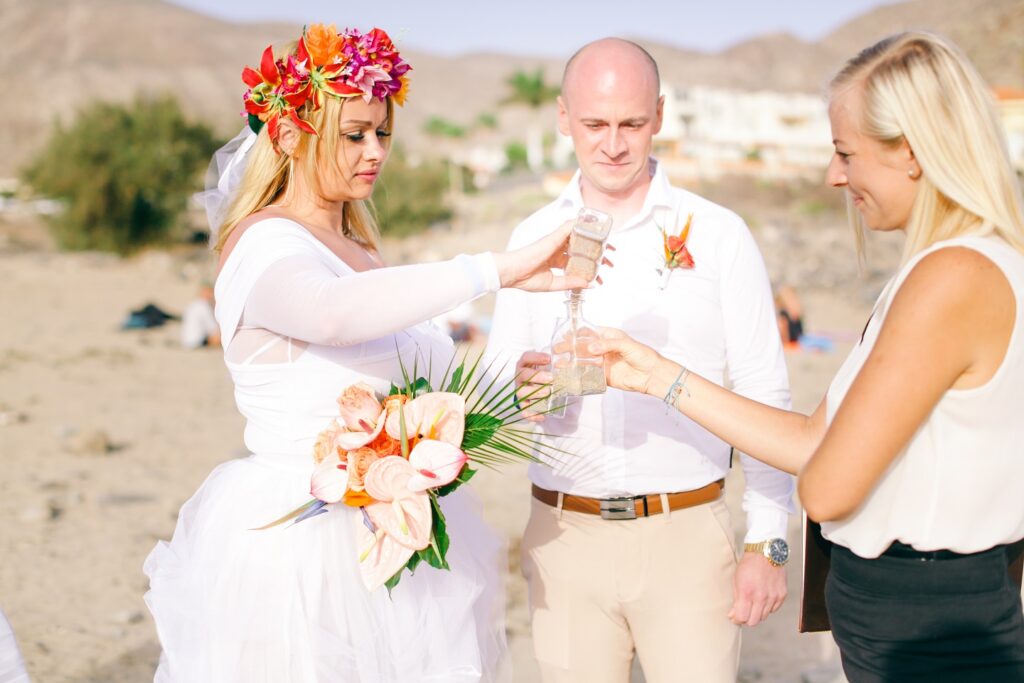 Organizing a wedding in Spain may require a little more work than in the country, but thanks to the beautiful landscapes and culture, it will be an unforgettable experience.
Do you dream of getting married in a warm country? Tenerife has everything you could want!
---